MOBO Award winner, Rob's TV composition and production credits include: Good Morning Britain, ITV Election Debate,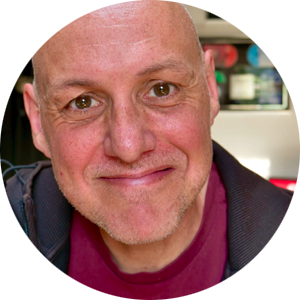 Stephen Lawrence Has Britain Changed?, Lorraine, This Morning, Peston, Loose Women, Inside Out, Now You See It, 5 Gold Rings and BBC's award winning, Toughest Place To Be A. He has composed and overseen the audio branding for FIFA Women's World Cup, Vancouver Winter Olympics, UEFA Euro Qualifiers, Basketball Champions League, Champions Hockey League, CONCACAF Nations League, UEFA Futsal, Al Jazeera, Pokerstars, Guinness ICC and the BAFTA Award Winning, 'It Was Alright In The...'
Rob co-founded and toured with Beehive, one of the UK's most sought after live acts, when the Acid Jazz boom was at its height. In 1997, their brilliant blend of Funk and Nu Soul won them a MOBO award for their self produced album, 'Brand New Day'. He subsequently worked with a number of top acts including Honeyz, Misteeq, 911, Louise and Lulu. Production and mix credits include Alex Parks, Moya Brennan, RyanDan and Will Martin. He produced Connie Talbot's 'Over The Rainbow', which achieved Gold status in the UK as well as Platinum Sales in Asia. The single 'Three Little Birds' reached number 1 in the US Billboard Hot Singles Sales chart.
He runs award winning production company, Sitting Duck. In 2010 he co-founded Community Albums, a charity that develops people and gives communities a voice through music and media. He has overseen community projects in the UK, Africa and Asia.
About The Session
Rob will talk about his career as a musician, composer and producer in the music and TV industries. Subjects covered will include:
How to build a career in music while still earning enough to live on! - Working as a session musician
Working as a music producer
Working as a composer
What skills other than music will I need to succeed? - How to get your music on to TV.
How to get your music in front of the right people.
Outcome
Students will find out how one person made a successful career in music, and be encouraged to apply lessons learned to their own situations and circumstances.